The European Commission has confirmed that a team of monitors will visit Gibraltar next week (25 September) in a bid to resolve the long-running dispute over the territory that has flared up in recent months.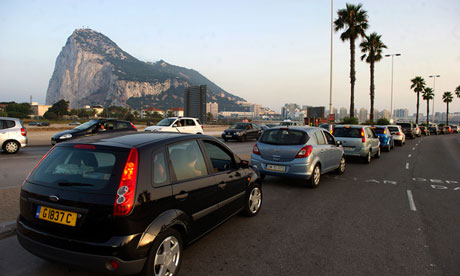 The request
came from British Prime Minister David Cameron
who called European Commission President José Manuel Barroso and urged him to urgently send an EU monitoring team to gather evidence on the lengthy border control delays instigated by the Spanish government. Following the phonecall, Number 10 said: "
We believe that the European Commission, as guardian of the treaties, should investigate the issue.
"
"The mission – as agreed on August 19 – will visit the border between Spain and Gibraltar on 25 September to assess the border controls, free movement of people and goods, including fraud and smuggling", a Commission spokesman said today a statement.

"It was also agreed that the complaints made by Spain regarding the dumping of concrete blocks and the re-sanding in the context of the Eastside project will be dealt with in parallel and with the necessary thoroughness by the European Commission."
More information about the mission can be found on this
European Commission Memo
(doc).
Spain had been blocking the arrival of the team,
which will be led by Cecilia Malmstrom, the European Commissioner for Home Affairs
, insisting that the Commission should not only inspect the border but also investigate Gibraltar's offshore economy and look into allegations of money laundering and environmental damage, both strongly denied by the UK and Gibraltar. And according to
diplomatic sources quoted in the Times
it eventually took a stern phone call yesterday morning from the president of the European Commission, José Manuel Barroso to the Spanish Prime Minister, Mariano Rajoy to make Spain cave in.
The Foreign Office said on Tuesday night it welcomed the mission and said: "We welcome this confirmation that a monitoring mission will be sent. We stand ready to offer all necessary support to ensure that the mission can conduct its investigation successfully."
Last week, the European Commission President vowed to take action if the inspection team found evidence to suggest EU rights had been breached. During an online Q+A session hosted by Euronews in response to a Gibraltarian Tony Evans, Mr Barroso said (click for video): "We have to do (this inspection) in an objective, impartial, independent manner. And afterwards of course, if there is a violation of any of the freedoms, we will not hesitate to act because we have to be sure that European law is respected."
---